FREE Bodybuilding Program
Build Muscle, Lose Fat
And Get Super Strong!
Enter your first name and a valid email address
for free instant access to this awesome workout program.

Andro Testosterone Supplement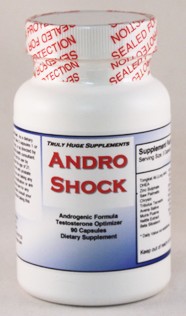 Andro-Shock
The United State Senate officially banned Androstenedione and other pro hormones by unanimous consent in the United States Senate on October 8th, 2004. This had a massive effect on athletes that were relying on the results that they were able to get from using these anabolic supplements.
But, there is always a frantic exploration going on with scientific research to establish new and effective supplements and it did not take them long to come up with Andro-Shock. This is a new effective synergistic compilation of legal testosterone boosting supplements that can increase the overall results with less chance of side effects.
Andro-Shock was specifically created to be safer as well as to be more effective than these products which have been banned.
Andro-Shock on consists of ten different supplements, which act together to be more effective that the individual supplements could be acting alone.
350 mg of Tribulus Terrestris which is an herbal supplement that has shown to increase the release of luteinizing hormone and help to increase testosterone production.
300 mg of Nettle Extract which for years has also been used to increase free testosterone levels.
200 mg of Saw Palmetto (Sabal serrulata) which is something that now been used for over a century to help prevent prostrate problems and also balding in men.
250 mg of Muira Puma which is said to increase libido and improve the production of testosterone.
150 mg of Chrysin which is one of several super-flavones that help to block the conversion of excess testosterone into estrogen - called "aromatize blockers."
100 mg of Tongkat Ali "Long Jack" which has been used for over 1000 years to improve sexual performance.
100 mg of DHEA which is a hormone that is naturally made by the human body. There are many different names that it has in the scientific community but it is generally accepted to describe Dehydroepiandrosterone.
100 mg of Avena Sativa which they say, is responsible for relieving stress & tension and also boosting energy and aids in concentration. It also is said to release bound testosterone which increases your levels of free testosterone.
30 mg Betasistosterol has been used to block DHT, promote prostate health, boost immunity and help control cholesterol.
30 mg Zinc Sulphate which is one of the "essential vitamins" it is well known that a Zinc deficiency can cause low testosterone levels in men.
As mentioned above it is the synergistic combination of these supplements which makes it greater than the individual parts.
Order Andro-Shock Today
A 90 capsule bottle which is a one-month supply, is now only $69.95 plus $5.00 Shipping and handling.
And if you order right now you will also get a FREE report on "How To Boost Testosterone Naturally".

To order by phone call:
1-800-635-8970 or 1-503-648-1898
10 AM to 6 PM PST

Disclaimer: This website is an educational service that provides general health information. The materials are provided "as is" and without warranties of any kind either express or implied. The website's content is not a substitute for direct, personal, professional medical care and diagnosis. None of the suggestions (including exercise, diet, products or services) mentioned should be performed or otherwise used without clearance from your physician or health care provider. The information contained within is not intended to provide specific health advice, or any other advice whatsoever, for any individual or company and should not be relied upon in that regard. We are not medical professionals and nothing on this website should be misconstrued to mean otherwise.